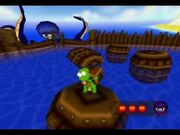 Soveena the Squid is a boss in Croc 2.
Official Bio
Edit
"This Ginger Soda obsessed monster of the deep just cannot control herself when she gets the slightest whiff of Ginger Soda. The Sailor Gobbos have worked long and hard to build up fortified Ginger Soda stores but when Soveena wants soda, Soveena WANTS soda!"
Ad blocker interference detected!
Wikia is a free-to-use site that makes money from advertising. We have a modified experience for viewers using ad blockers

Wikia is not accessible if you've made further modifications. Remove the custom ad blocker rule(s) and the page will load as expected.