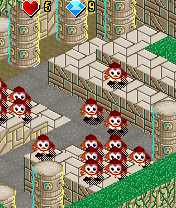 Princess Tara
is the wife of
King Rufus
, first introduced in
Croc Mobile: Volcanic Panic!
.
Princess Tara was kidnapped and imprisoned by Baron Dante in the Ruins until Croc turned up and defeated him, releasing her so she could marry King Rufus. At the end, she and King Rufus start off a dance party, inviting Croc and their subjects to dance the night away.
Princess Tara uses the same gobbo model as all the other gobbos in the game. Whereas King Rufus uses a crown for his profile picture, Princess Tara does not.
Ad blocker interference detected!
Wikia is a free-to-use site that makes money from advertising. We have a modified experience for viewers using ad blockers

Wikia is not accessible if you've made further modifications. Remove the custom ad blocker rule(s) and the page will load as expected.