Platform Pete is a big blue Dantini. He appears in only Panic at Platform Pete's Lair and Crox Interactive. He stands on a floating platform with a big wooden mallet. He uses it to hit buttons that flips platforms over for Croc to jump to and from. He cannot be attacked as he out of reach for Croc, so he has to be avoided.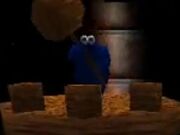 Ad blocker interference detected!
Wikia is a free-to-use site that makes money from advertising. We have a modified experience for viewers using ad blockers

Wikia is not accessible if you've made further modifications. Remove the custom ad blocker rule(s) and the page will load as expected.