Flibby

Type

Species

Ladybug

Occupation

Professional Boxer

Gender

Female

Punch, Slam and Swing

Weaknesses

Runs out of breath, ticklish on front

Level

Clothing

Boxing Gloves

Eye Color

Brown

Flibby is a ladybug in Croc: Legend of the Gobbos and is the second Guardian of Forest Island. She appears in the level Fight Night With Flibby.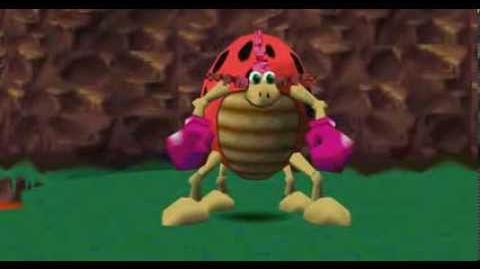 Flibby was an innocent ladybug who lived on
Forest Island
. When
Baron Dante
realized
Croc
defeated 
Tooty the Feeble
, he decided to create a second Guardian.
Dante found Flibby crawling along a tree branch and placed her on a mushroom. He used his magic to turn Flibby into a powerhouse boxer, complete with boxing gloves. Flibby challenged Croc to a match in the island's boxing ring.
Set in a boxing ring, Croc must approach Flibby while dodging her attacks. She will then take a breath in which Croc must tail-attack her and stomp on her while on her back. She has three attack-styles: swing, multi-punch and slam, so be careful. Do this three times to defeat her.


On the offical Croc website, Flibby's bio states: Flibby is a great fighter. She could have been a contender if it hadn't been for her glass stomach. All those nights down at the gym wasted on a ticklish ladybug!
This is the only Guardian which requires Croc to use both a tail and stomp attack.
This is the only ladybug in the game.
Ad blocker interference detected!
Wikia is a free-to-use site that makes money from advertising. We have a modified experience for viewers using ad blockers

Wikia is not accessible if you've made further modifications. Remove the custom ad blocker rule(s) and the page will load as expected.