Welcome to Croc: Wiki of the Gobbos!
with 360
articles
and 13,935 edits since 3rd June 2008!
Create new page (guide):
Random Page | Random Level | Random Character | All Pages
Featured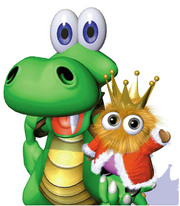 Games
See all games in the
Croc Games category
!
Characters
In his adventures,
Croc
meets many
characters
,
protagonists
and
enemies
. Here are just a few:
Levels
In
Croc: Legend of the Gobbos
In Croc 2
The Mainland
| | |
| --- | --- |
| Background to Croc | Interesting Articles |
Featured Level
Shoutin' Lava Lava Lava is the third level of the Forest Island in Croc: Legend of the Gobbos, and the third level played chronologically. As with all normal levels, there are 6 Gobbos hidden throughout the level. Shoutin' Lava Lava Lava is one of the few levels to have a secret bonus area. The name of this level is a spoof of a song called 'Born Slippy' in which the lyrics were 'Shouting Lager Lager Lager'.

From: Shoutin' Lava Lava Lava
Featured Picture/Video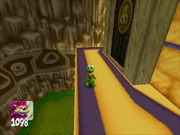 Polls
Did You Know?
Ad blocker interference detected!
Wikia is a free-to-use site that makes money from advertising. We have a modified experience for viewers using ad blockers

Wikia is not accessible if you've made further modifications. Remove the custom ad blocker rule(s) and the page will load as expected.