Home
Talk

0
184pages on
this wiki
Welcome to Croc: Wiki of the Gobbos!
with183
articles
,2,971 edits and 3 active users since 3rd June 2008!
Create new page (guide):
Random Page | Random Level | Random Character
If you see an incomplete page please contact an admin or complete it yourself!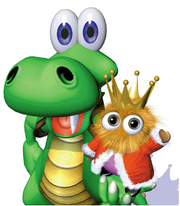 Warning: As with many websites, we do not tolerate spam, swearing or other irregularites. This may result in an edit block.
Games
See all games in the Croc Games category!
Characters
In his adventures, Croc meets many characters, friends and enemies. Here are just a few:
| Gobbo | Dantini | Baron Dante | Bosses |
| --- | --- | --- | --- |
| | | | |
| Furry little creatures who rasied Croc as a baby and live in Gobbo Valley | Little followers of Baron Dante who come in many different types | The main enemy of Croc | Find all bosses in the Croc games here! |
Levels
In Croc 2
Welcome to Croc: Wiki of the Gobbos, a community that was created June 3, 2008 by CrocadoodleDoo! and aims to create the best resource for Croc, a game series by Argonaut Games PLC.
Hey, if anyone who worked on the Croc Games sees this, could you please contact us here! We'd be delighted to hear from you! Croc and all related games, characters, logos, and anything else Croc-related is of Morpheme Mobile Ltd. [1]
Did You Know?
From our newest articles:
| | |
| --- | --- |
| Background to Croc | Neat Articles |
Featured article
And So The Adventure Begins is the first level played chronologically in Croc: Legend of the Gobbos. As with all the other normal levels on the game, there are 6 Gobbos that need collecting. This is one of the few levels that features a secret bonus area.
From: And So The Adventure Begins
Featured Croc Pics
Every so often, Croc Pictures from around this Wiki will end up here, in this Featured article box! Vote on the discussion page for your favorite pics to be featured!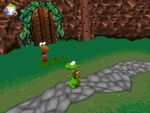 Polls
Which island do you think is the best?
Which game do you think was the hardest to complete?