Welcome to Croc: Wiki of the Gobbos!
with 239
articles
, 12,633 edits and 2 active users since 3rd June 2008!
Create new page (guide):
Random Page | Random Level | Random Character | All Pages
Wiki News
Satisfactory Articles: 14 | Incomplete Articles: 117 | Unmaintained Articles: 9
If you see an incomplete page please contact admins CrocadoodleDoo!, Hotchoc26, or Chrisdominoes or complete it yourself!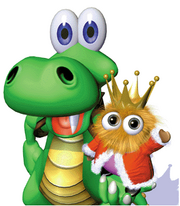 Warning: As with many websites, we do not tolerate spam, swearing or other irregularites. This may result in an edit block.
Games
See all games in the
Croc Games category
!
Characters
In his adventures,
Croc
meets many
characters
,
protagonists
and
enemies
. Here are just a few:
Levels
In
Croc: Legend of the Gobbos
In Croc 2
The Mainland
Background
Croc is a game series by Argonaut Games PLC. It follows a baby crocodile named Croc who is found by little creatures called Gobbos, who train them to live the Gobbo life. The Gobbos are threatened by the evil Baron Dante and his Dantini minions to capture several Gobbos whom Croc must rescue and defeat the baron. There have been a total of 2 official released games: Croc: Legend of the Gobbos and Croc 2.
If anyone who worked on the Croc Games is viewing this wiki, could you please contact us here! We'd be delighted to hear from you! Croc and all related games, characters, logos, and anything else Croc-related belongs to Jez San.
Soundtrack
For more details on the music in the games, see Soundtrack.
Did You Know?
0
Croc: Wiki of the Gobbos
Join the Chat>
Croc News
Story Box
The original Croc designer, Simon Keating, is developing a new game (called Story Box) in a similar style to Croc. On his Facebook page he stated "If Story Box gets funded and released, we have plans to push the 'Croc' style forward into new realms. Of course, we don't have the official license for Croc but I did design him, his world and the story in which he existed, so re-generation is on the cards. Story Box is a stepping stone towards this, so we really need all the old school Croc fans to help us out.". A month ago, they launched their Kickstarter campaign but, unfortunately, they did not make their minimum, although they stated that they will keep trying. Please consider donating to them here so that you can help Croc come back.
| | |
| --- | --- |
| Background to Croc | Interesting Articles |
Featured Level
Shoutin' Lava Lava Lava is the third level of the Forest Island in Croc: Legend of the Gobbos, and the third level played chronologically. As with all normal levels, there are 6 Gobbos hidden throughout the level. Shoutin' Lava Lava Lava is one of the few levels to have a secret bonus area. The name of this level is a spoof of a song called 'Born Slippy' in which the lyrics were 'Shouting Lager Lager Lager'.

From: Shoutin' Lava Lava Lava
Featured Picture/Video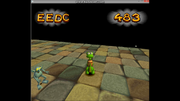 Polls
Which Guardian in Croc: Legend of the Gobbos do you think was the hardest to defeat?
Ad blocker interference detected!
Wikia is a free-to-use site that makes money from advertising. We have a modified experience for viewers using ad blockers

Wikia is not accessible if you've made further modifications. Remove the custom ad blocker rule(s) and the page will load as expected.