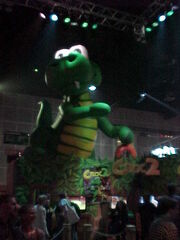 There is a relatively good amount of Croc Merchandise out there, at least given how long Croc was around for. Unfortunately, a good portion of it is promotional, and very difficult to obtain.
Merchandise
Edit
Backpacks
Edit
Plus another Playstation magazine poster
Plush Toys
Edit
In addition to this, there is a life-size four-foot-tall plush that was given away in a US-only online sweepstakes promotion for Croc 2 which was run on Fox Interactive's website back in 1999 (the winner won the plush and a family vacation to Australia).
Strategy Guides
Edit
Not pictured:
Croc key-ring
Croc 2 CD wallet
A sheet of Croc 2 magnets
The poster from the packaging for Croc for the Game Boy Color
Wooden Smash Box, containing a crystal with the Croc: Legend of the Gobbos logo set etched into its base, with an invite to the ECTS 1997 press party for the original game's launch etched into the lid
Figures (likely prototypes)
TV series pilot by Saban (1999)