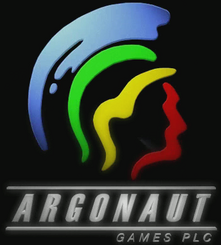 Argonaut Games is the company that created
Croc
amongst various other games. The company was founded by J. San in 1982.
When Jez San began work on the company, he named it Argonaut after the old story of Jason and the Argonauts. His initials, J San, made this almost a pun. The company produced its first game Skyline Attack for the Commodore 64. It later produced the 3D Starglider games for the Amiga and Atari ST platforms.
In 1993 Argonaut were working with Nintendo during the early years of the NES and SNES. They developed a prototype of the game Star Fox, initially codenamed "NesGlider" and inspired by their earlier 8-bit game Starglider, that they had running on the NES and then some weeks later on a prototype of the SNES. Jez San told Nintendo that this was as good as it could get unless they were allowed to design custom hardware to make the SNES better at 3D. Nintendo said yes, and San hired chip designers and made the Super FX chip (originally codenamed by then the "MARIO chip").[1] So powerful was the Super FX chip that was used to create the graphics and gameplay that they joked that the Super Nintendo was just a box to hold the chip.[2]
In 1997, the company released Croc: Legend of the Gobbos to mainly positive reviews.
Argonaut Software Limited became Argonaut Games and was floated in 1999.
The company went out of business in late 2004.
Other games by Argonaut
Edit
Skyline Attack, 1984
Alien, 1984
Starglider, 1985
Starglider 2, 1988
Days of Thunder, 1990
Race Drivin', 1992
A.T.A.C, 1992
Birds of Prey, 1992
X, 1992
Star Fox, 1993 (programming)
King Arthur's World, 1993
Vortex, 1994
Stunt Race FX, 1994 (assistance in programming)
Creature Shock, 1994
Ren & Stimpy: Fire Dogs, 1994
FX Fighter, 1995
Alien Odyssey, 1995
FX Fighter Turbo, 1996
Scooby Doo Mystery, 1996
Croc: Legend of the Gobbos, 1997
Buck Bumble, 1998
Croc 2, 1999
The Emperor's New Groove, 2000
Alien: Resurrection, 2000
Red Dog: Superior Firepower, 2000
Aladdin in Nasira's Revenge, 2000
Harry Potter and the Philosopher's Stone, 2001
Harry Potter and the Chamber of Secrets, 2002
Bionicle: Matoran Adventures, 2002
Bionicle: The Game, 2003
I-Ninja, 2003
Swat: Global Strike Team, 2003
Carve, 2004 (Xbox)
Catwoman: The Game, 2004
Power Drome, 2004
Malice, 2005
Ad blocker interference detected!
Wikia is a free-to-use site that makes money from advertising. We have a modified experience for viewers using ad blockers

Wikia is not accessible if you've made further modifications. Remove the custom ad blocker rule(s) and the page will load as expected.